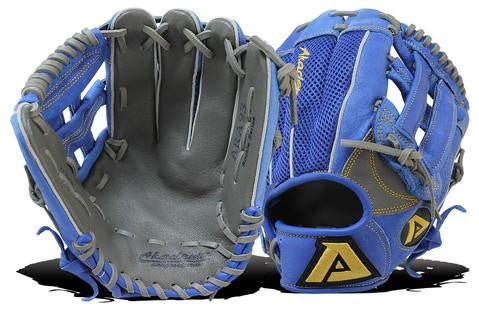 ARA 93 Ranked #1 By Pintarpress.com
Akadema is proud to announce the Rookie Series Glove ARA 93 was ranked #1, by Pinetarpress.com, as the Top Ranked Youth Baseball Glove. One of three gloves in the rookie series. The ARA 93 uses full grain soft leather in the construction for easy break-in and comfort. It is an 11" glove that is blue with a mesh back. ARA 93 is designed for six-to-nine-year old's who are serious about baseball and want to play like their favorite ball players.  "We are proud of all of our series of gloves" says Lawrence Gilligan, President "It has always been our purpose to design and manufacture the top level gloves, no matter what the price point"  Pinetarpress.com notes Akadema's use of U.S. steerhide leather in constructing this glove. This highly durable yet soft leather is used on the palm and web sections of the glove. On the back, special AkademaLyte leather has been used. This ensures that the glove remains light-weight enough for a comfortable wear, without wearing down the player. The ARA 93 98 is available for both right-handed and left-handed catchers. 
About Akadema:
Akadema is the world's most exciting baseball and softball equipment company. In its short history Akadema has become the hottest baseball and softball equipment company for professional, college, high school and serious youth players. Akadema attributes their increase in market share to their innovative quality professional product line, which is contrast to mass production products that have little to do with quality or feel. Akadema has long stood for high quality and performance and wants you to Bring Your "A" Game. Akadema comes highly endorsed by former and current MLB players like: Derek Holland, Manny Ramirez, Shane Victorino, Cameron Maybin, Vin Mazzaro, Craig Breslow, David Murphy, Jose Guillen and many others as well as Senior Advisor Ted Kubiak, MLB Hall of Famer Carl Yastrzemski and former Senior Advisor and HOF catcher Gary Carter.
---