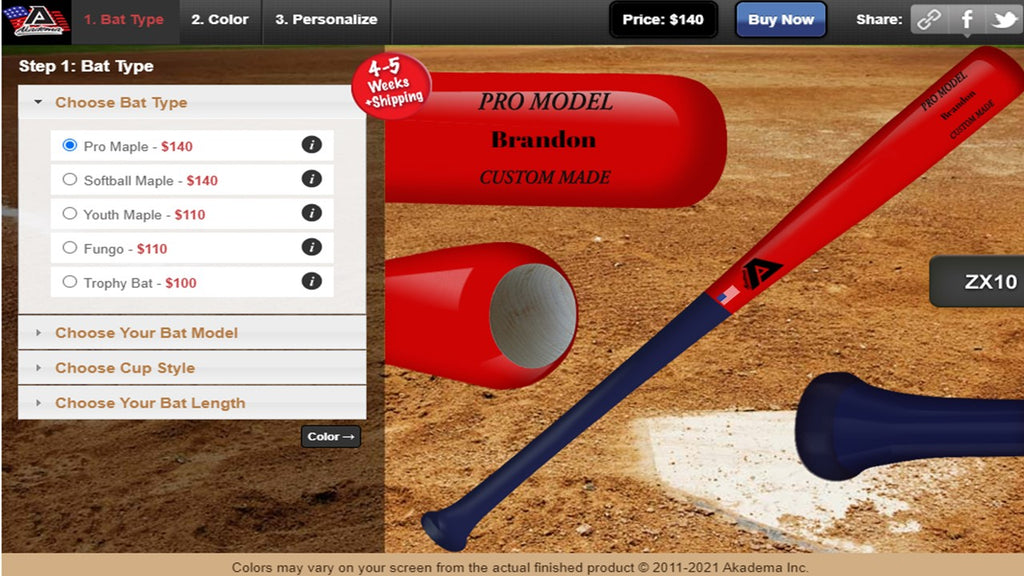 BREAKING NEWS: AKADEMA DIGITAL BASEBALL BATS
There is nothing like the good feel of a baseball bat in hand. Whether you play in the backyard or in the big leagues, a good bat always feels better. However, what if there was a way to customize your own bat and create it to your liking?  With the Akadema website, you can create your own custom bat via digital creator. Akadema has released another video on their YouTube channel regarding a custom bat builder walkthrough, to help guide one into designing their own bats, hybrids, or fungoes; the options are limitless.
"Creating a glove is one thing but having a bat to go with it completes the pair," Brandon, creator of the video says. I really enjoy doing this, it helps others who may not be too familiar with how our website works, and it gives them a step-by-step guide, and personally, I am one of those people who likes things in steps." From color, to engraving, to length, Akadema has a lot to offer regarding their custom bats. Alike the custom gloves, design your own bat today, and complete the pair of a glove and bat.
Link to the channel https://www.youtube.com/channel/UCymE6Ib-b2_72XDTlADXt0A
About Akadema: Akadema is the world's most exciting baseball and softball equipment company. In its short history Akadema has become the hottest baseball and softball equipment company for professional, college, high school, and serious youth players. Akadema attributes their increase in market share to their innovative quality professional product line, which is contrast to mass production products that have little to do with quality or feel. Akadema has long stood for high quality and performance and wants you to Bring Your "A" Game. Akadema comes highly endorsed by MLB players like: Manny Ramirez, Shane Victorino, Cameron Maybin, Derek Holland, Ross Ohlendorf, Vin Mazzaro, Brad Ziegler, Craig Breslow, David Murphy, Brandon McCarthy, Jose Guillen and many others as well as Senior Advisors and MLB Hall of Famers Gary Carter and Carl Yastrzemski.
Contact:
Akadema Inc.
46 Star Lake Road
Bloomingdale, NJ 07506
Phone: 973-304-1470
Fax: 973-636-6375
---